Overview
Ix15 is a mobile application group project that iterated on the Interaction Design Association (IxDA)'s original app for its 2015 San Francisco conference. IxDA is an member run organization with a focus on building a strong interaction design community. The event lasted 3 days and involved talks, workshops, and other activities focused on the world of interaction design.
My Role: In this project I was the Project Manager, I developed the project plan and coordinated tasks among my team members.
Team Members: Paul Casey (UX Designer) , Heidi Lowry (UX Designer), and Andy Swan (UX Designer).
Tools: Axure, Sketch, Omnigraffle
Duration: 2 weeks
The Challenge
Annually, IxDA releases a mobile application accessible to its attendees and speakers. However, the mobile application for the 2015 conference had a difficult layout to navigate and received a low rating in the app store.
The Proposed Solution
The goal of the project was to design an application that would solve the issues of the original app and have the layout that can be used for future conferences and give the conference goers an optimized mobile experience.
Research
Information was collected through a series of in person interviews with potential app users, domain research and comparative/competitive analysis of other conference apps.
An affinity diagram and persona were formed from the research information.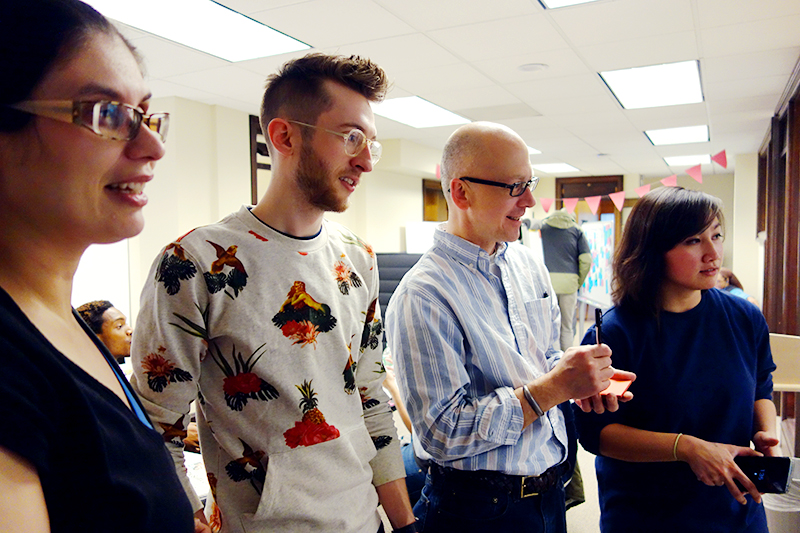 Plan
Research data was organized and specific features were then chosen to meet the users' needs.
Site maps were formed to organize information architecture. User flows* and scenarios reflected how the user would interact with the app's features.
Design
Overall layout of the application was developed through a series of design studio sessions. All team members contributed and presented their own sketches for the application. I time boxed each session to make sure we stayed on schedule. After revision, a set layout was determined.
I created grayscale wireframes using Sketch and a clickable prototype was created using Axure.
Test
Usability testing was conducted on low-fidelity grayscale prototype after consent was collected. The users were screened to have attended at least one conference and used the conference mobile application or would have used it if one was available.
After an introduction, users were given a set of tasks to complete on the prototype while providing a cognitive walkthrough: customize privacy settings, add an event from the main calendar to their personal schedule, add a contact through an event, add a group, and find colleagues on the floor plan. The data was recorded using QuickTime.
Iterate
After usability testing and analyzing the results, iterations were done on the prototype.

Features were adjusted according to the users' feedback. The visual design was made more high fidelity and followed IxDA's current website design style (http://www.ixda.org/)
Conclusions
Reception of the prototype was overall positive and further testing can be performed to identify more areas for improvement.
During our domain research, my team and I discovered that IxDA will not be using Sched.org for its next conference in 2016 (http://interaction16.ixda.org/). Our Ix15 mobile application should ideally give conference goers an optimized mobile experience and will also provide a layout that IxDA will be able to use not only for 2015 but for future conferences to come.